Those who follow these sorts of things know that Gov. Scott Walker's attempt to
seek Interstate status for the freeway portions of U.S. 41
is not really news.
In fact, 41 between Milwaukee and Green Bay has been supposed to be slated for the Interstate system since 2005, when U.S. Rep. Tom Petri (R–Fond du Lac) inserted that stipulation into a transportation bill passed by Congress and signed into law. That is one reason for
the billions of dollars of work on 41
between Oshkosh and Neenah and in the Green Bay area. Walker is seeking to have 41 changed into Interstate (fill in the number, about which more later) by 2015.
First, some history, much of it from the excellent
WisconsinHighways.org
site and from
WisconsinHistory.org
. An important anniversary largely unobserved in Wisconsin took place Sept. 4, 1958, when the first segment of
Wisconsin's Interstate highways
—
I–94
between U.S. 18 and Waukesha County SS — opened, as pictured here.
The Interstate Highway System — created to serve "national defense; integrating the national [freeway or highway] system by filling missing links; assisting industrial, recreational and commercial movement, and 'providing direct access to, for, and from rural and urban areas,'" according to
WisconsinHighways.org
— is one of the few cases where Americans have gotten their money's worth from federal spending. It is impossible to imagine the American economy without the ability of independent mobility — to move goods and services from business to customer, for families to vacation somewhere other than where they live, or for people to be able to relocate through putting their stuff in their car and filling up the gas tank — without having to rely on someone else's, or more likely Big Government Brother's, schedule.
Interstates to me have always represented opportunity of mobility. I grew up one mile from where I–90 (the nation's longest Interstate, connecting Boston, Chicago and Seattle) heads south into Illinois, I–94 heads east to Milwaukee, and I–90/94 head northward. The Doppler whine of vehicles heading north or south past our neighborhood was omnipresent whenever the weather was nice enough to open the windows, particularly on holiday weekends.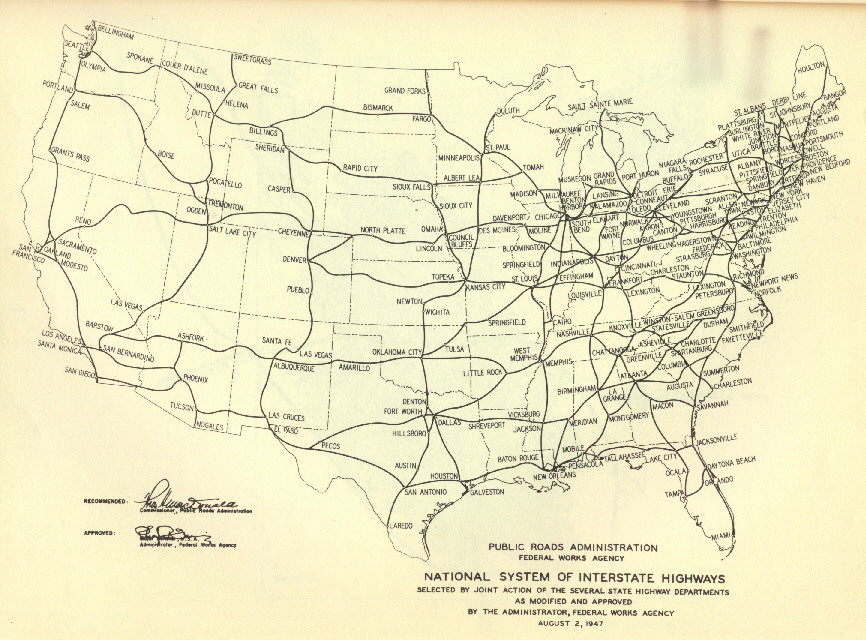 The initial design of the Interstate Highway System is another example of the federal government's screwing over Wisconsin. Wisconsin has for years been considered a "2 percent state," having approximately 2 percent of the nation's population, vehicles, gross domestic product, etc. And yet Wisconsin initially was to have 1 percent of the Interstate system's mileage, with just two Interstates —
I–90
from Beloit through Madison to Tomah to La Crosse, and I–94 from Kenosha through Milwaukee and Madison (along the old
Wisconsin 30
) to Tomah to Hudson — on the first map. (The initial plan to have I–90 along
U.S. 18
between Prairie du Chien and Madison was rejected by the feds, with 90 and 94 ending up along the same route from Tomah to Madison, creating the epic Wisconsin Dells bottlenecks).
There were proposals to connect Superior and Eau Claire, Milwaukee and Marinette, and Green Bay and Hurley by Interstate, all rejected by the feds. Not until 1972 was a Milwaukee-to-Green Bay Interstate approved, with three route choices — along U.S. 41 connecting the Fox Cities, Oshkosh, Fond du Lac and West Bend; along
U.S. 141
connecting Manitowoc, Sheboygan and Port Washington; and along
Wisconsin 57
splitting the difference between the two routes. Ultimately, 141 was converted to what became
Interstate 43
, a bit of an odd decision given that more people and industry can be found along 41 than I–43.
Thanks to legislative legerdemain, Wisconsin's Interstate map has expanded over the years. I–43 was expanded southwest to Beloit along what used to be Wisconsin 15. (Don't confuse that with the new
Wisconsin 15
northwest from the Fox Cities.)
U.S. 51
north of I–90/94 became
Interstate 39
to Wausau (and at some future point probably northward with the giant U.S. 51/
Wisconsin 29
interchange project finished in Wausau). Wisconsin has three other Interstates —
I–894
, which runs from north of Mitchell Field to near the Milwaukee County Zoo;
I–794
, which runs south from downtown Milwaukee for a few miles; and
I–535
, which is the Duluth-to-Superior bridge.
Wisconsin also has a lot of non-Interstate four-lanes — U.S. 151 between Fond du Lac and Dubuque (which replaced a road that killed two UW Band members with whom I marched), U.S. 53 from Eau Claire to Superior, U.S. 10 from the Fox Cities to Stevens Point (and eventually westward), Wisconsin 29 from Eau Claire to Green Bay — that the state had to build (with, admittedly, significant federal money) because the feds just didn't see Wisconsin as important enough for more Interstates. Perhaps this is because Wisconsin keeps sending to Washington U.S. senators less interested in their state than, respectively, seeing Communists while being too sloppy to see if they were Communists (Joe McCarthy), insignificant examples of government waste that never challenged the size and scope of government (William Proxmire), Gaia (Gaylord Nelson), and campaign finance reform (Russ Feingold, thankfully retired by the voters Nov. 2).
The fact is that U.S. 41's inclusion in the Interstate system is long overdue. (And while we're at it, Wisconsin 441 and Wisconsin 172 between 41 and I–43 should be added too.) I–43 as the main Milwaukee-to-Green Bay connection was always insufficient in that there are no freeway connections from the more populous west side of Lake Winnebago to I–43. Interstates are the safest roads because they are designed without intersections or sharp curves and with gradual transitions from one road to the next. They are the best transportation combination of safety and freedom that man is likely to be able to design.
The Milwaukee Journal Sentinel's story attracted the usual collection of
idiotic comments
. One common theme is the ludicrous claim that high-speed rail is superior to Interstate travel. The mere fact that you would be traveling on someone else's schedule debunks that claim. The fact that the high-speed rail supported by the previous administration would be unusable to most of the state, not to mention freight-hauling businesses, demonstrates the elitism of the high-speed-rail set. And the quoted $15 million to $20 million to finish the upgrade project would cost less than more than $800 million for freeway speed rail, wouldn't it?
Another asks why an Interstate designation is needed — evidently written by people who do not understand the concept of marketing. The Interstate is a brand with its own brand promise — that you get at least two lanes in each direction, with no intersections, stop signs or stoplights, and that you will get to your destination as fast as your vehicle can take you and traffic will allow you. There are non-Interstate freeways, but drivers and businesses now know what Interstates give the driver, which is not guaranteed with any other kind of road.
"The Milwaukee to Green Bay corridor and the Fox Valley are major centers for economic growth and employment in Wisconsin, and the entire area deserves the infrastructure necessary to support the businesses there," said Petri, who apparently does understand how marketing works in economic development. "'Interstate' is our premier class of roads, and this region deserves no less, so I am pleased to be working with Gov. Walker on this to build our state's competitiveness and create jobs."
A word about the number:
U.S. 41 is not likely to become I–41 because state law prohibits a U.S. highway's having the same number as an Interstate. The four-lane portions of U.S. 41 northeast of Abrams still have intersections, so that part of 41 can't be in the Interstate system. (Upper Peninsula residents wondering why their parts of U.S. 41 can't be Interstate — the UP's only Interstate is I–75 from the Mackinac Bridge to Sault Ste. Marie — should ask the Michigan Department of Transportation and former U.S. Rep. Bart Stupak.) About two years ago, there were reports that U.S. 41 would become I–243, which would be considered a bypass of I–43, and which would make converting to an Interstate beside the point.
If U.S. 41 cannot become I–41, the preferable alternative would be to make it an extension of I–55, which now connects Chicago, St. Louis and New Orleans. Since Milwaukee and Chicago are already connected by Interstate (I–55 ends at Lake Shore Drive, which there is ... U.S. 41), it should be just a matter of changing signs to extend I–55 from Chicago through Milwaukee, West Bend, Fond du Lac and the Fox Cities to Green Bay. That would mean, incidentally, that I–55 would connect Soldier Field (which in the distance in this photo) and Lambeau Field.